It has been over 10 years since the Consumer Financial Protection Bureau (CFPB) started publicly enforcing federal consumer finance laws. In that time the CFPB has launched 325 actual legal cases (or actions) of public litigation. Let us examine this history of enforcement to see what patterns emerged. What issues is the CFPB prioritizing? How have the enforcement concerns evolved in recent years? Who have been the targets?
We can investigate this analytically using the attached PDF data table compiled from data on the CFPB website[1]. Our analysis of these 325 cases reveals useful trends and meaningful takeaways for any company engaged in consumer finance activity.
Various Channels of Enforcement
At a macro level, there are two public enforcement channels available for the CFPB to pursue. Both channels are adversarial and may yield monetary fines and compliance obligations for the respondent company. Comparing the two enforcement channels:

Administrative adjudication: pursued by CFPB about 3/5 of the time, this involves the CFPB using a judge to recommend to the CFPB Director a course of action and settlement, which the Director may then enforce upon the company.


Federal district court lawsuit: pursued by CFPB about 2/5 of the time, the CFPB files a civil complaint in the relevant federal circuit court and then proceeds with normal courtroom litigation.
A Diversity of Consumer Finance Issues
CFPB groups their enforcement activities into 20 categories as shown in the below tables. More than one category can apply to a single litigation pursuit. For example, a single pursuit may be categorized as both debt collection and furnishing.
The most common category of CFPB enforcement has been mortgage origination. It accounts for 20% of unique CFPB enforcement instances over the last 10 years, and still 19% of enforcement instances since 2020. Meanwhile, auto finance and student loan related litigation is still relatively infrequent. These two combined only account for 12% of unique CFPB enforcement instances over the last 10 years. This has held steady, they also account for 12% of the enforcement instances since 2020.
Interestingly, consumer reporting is not a commonly enforced issue. It only accounts for 2% of CFPB litigation. This is most surprising when one considers the CFPB-managed national consumer complaints database because of the nearly 4 million submitted complaints, more than 50% of them are related to consumer reporting. An obvious conclusion is public complaint volume is not the main driver of CFPB enforcement prioritization.
If we consider only cases litigated in federal court, debt relief is the most common issue dealt with. Debt relief litigation accounts for more than 20% of the unique CFPB federal court enforcement actions.

Last 10 years of enforcement issues pursued by CFPB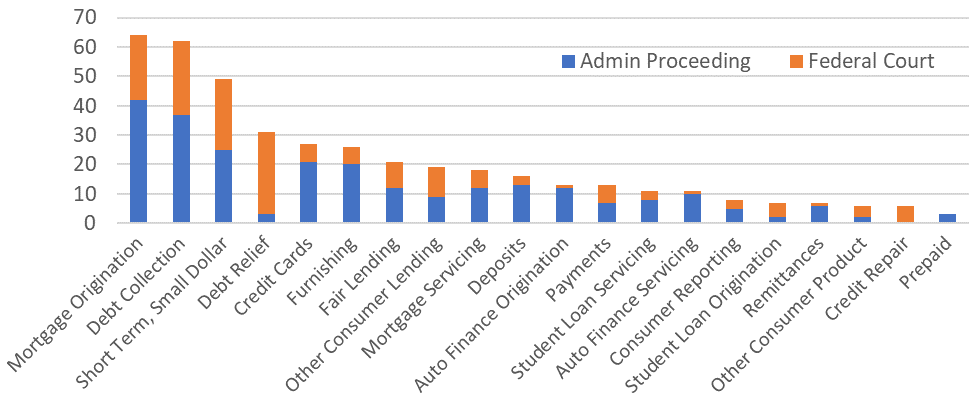 Changing Landscape of Enforcement Priorities in Recent Years
Despite relative stability in how the CFPB prioritizes and litigates over the 20 enforcement categories, there have been some notable changes in recent years. This can be seen in the table below.
Cases related to "deposits" have more than doubled in relative frequency since 2020. Deposits are now the 5th most frequently litigated category. Meanwhile, "credit card" related CFPB cases have significantly decreased in frequency since 2020.
The landscape of auto finance cases has also shifted but not changed in overall frequency. Cases related to auto finance "origination" have decreased while cases related to auto finance "servicing" have increased. These shifts balanced each other out yielding a steady frequency of auto finance-related cases.
A new enforcement category emerged in 2019 related to "remittance." It targets cross-border wire transfer firms. This category is tied for the 7th most frequently litigated category since 2020.
CFPB enforcement related to remittance

Repeat Targets
About 50% of CFPB cases involve two or more entities, defending companies or persons. Although there have been 325 distinct enforcement actions, over 600+ distinct entities have been pursued. For the most part, each such entity has only been involved in one enforcement action. However, 34 companies have been parties to multiple enforcement actions. The list of these repeat target companies is below.
Companies involved in multiple CFPB actions

| | |
| --- | --- |
| Company[2] | Enforcement Actions |
| AMERICAN EXPRESS COMPANY | 7 |
| WELLS FARGO BANK | 6 |
| CITIBANK | 5 |
| JPMORGAN CHASE BANK | 4 |
| FIFTH THIRD BANK | 3 |
| DISCOVER BANK | 3 |
| U S BANK NATIONAL ASSOCIATION | 3 |
| BANK OF AMERICA | 3 |
| OCWEN LOAN SERVICING | 2 |
| DOUGLAS MACKINNON | 2 |
| EQUIFAX | 2 |
| CITIZENS BANK | 2 |
| NATIONSTAR MORTGAGE | 2 |
| TRANSUNION | 2 |
| WASHINGTON FEDERAL | 2 |
| GE CAPITAL RETAIL BANK | 2 |
| 1ST ALLIANCE LENDING | 2 |
| ACE CASH EXPRESS | 2 |
| REGIONS BANK | 2 |
| DEPARTMENT STORES NATIONAL BANK | 2 |
| DISCOVER PRODUCTS | 2 |
| THE STUDENT LOAN CORPORATION | 2 |
| ENCORE CAPITAL GROUP | 2 |
| ASSET ACCEPTANCE CAPITAL | 2 |
| MIDLAND CREDIT MANAGEMENT | 2 |
| MIDLAND FUNDING | 2 |
| PORTFOLIO RECOVERY ASSOCIATES | 2 |
| SECURITY NATIONAL AUTOMOTIVE ACCEPTANCE COMPANY | 2 |
| JAMES R CARNES | 2 |
| CITIFINANCIAL SERVICING | 2 |
| TMX FINANCE | 2 |
| AMERICAN ADVISORS GROUP | 2 |
| MILITARY CREDIT SERVICES | 2 |
| SANTANDER CONSUMER USA | 2 |

Conclusions
The CFPB looks at a diversity of issues and for the most part, CFPB has been consistent in the frequency it pursues each issue over the last 10 years. Since beginning public enforcement activities over 10 years ago CFPB has pursued about 600 unique companies under 325 distinct legal actions. There is also a notable disconnect between the consumer complaints database and what the CFPB actually chooses to enforce.
Hopefully, this is helpful and provides you with intuition about how CFPB operates. What were your takeaways from this data? What analyses would you like to see next? Feel free to reach out to me, and subscribe to be notified of analyses I may publish in the future.
The next article examines CFPB consumer complaints in detail: How have consumer complaints evolved? What are the trending areas of growth in consumer complaints? Which companies are outpacing the industry in driving complaints?
Footnotes
Special thank you to Jonathan Pompan, Venable LLP for sharing his insight and suggestions.
[1] Source data available here as of April 2023. Note, the CFPB also conducts oversight and investigations that do not yield a public enforcement event, and such non-public efforts are not included in the linked data table.
[2] Companies may be a subsidiary of another. Multiple companies and subsidiaries can be involved in the same enforcement action.